Easy to read. Easy to remember.
Loved by children and simple enough for adults
A movement toward educated Love so you can learn to love like you know what you're doing
Gimpy's Secret: The children's book that's not kid's stuff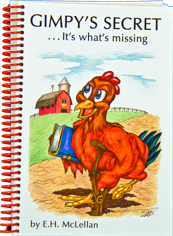 Gives you the tools you need to:
Create a happier home

Enhance all your relationships

Cause a friendlier work place

Make your business more profitable

Like yourself more

Make somebody's day

Recognize what's missing when it all hits the fan

For all ages. Simple enough for adults!
Gimpy's Secret is very clever, insightful, educational and motivational. The first part of the secret, "Attentiveness," seems to be missing in most relationships today. Reading Gimpy's Secret is fun and so helpful in making you aware of what is needed to improve your personal relationships. The secret and the answer are cleverly presented in the book. The illustrations are precious.
Ron Wright
Tucson, Arizona