"…trying to get along with others without this information; is like trying to tell time without your watch!"  James Norman
Fun to read! Easy to remember!
Loved, and quickly grasped by children,
yet simple enough for adults!
Gimpy's readers tell us:
Their lives are more joyful

They have an incredible advantage

They know "how to" get along with others

They know what's  wrong when things fall apart

They know how Love works!
"… more than a read, it is an experience…  a powerful message."- Laurette Lynn, author, speaker.
"Creative, captivating and inspirational for all ages…"-Jim A. Oldham, Superintendent, TN School for the Blind.
"Gimpy's Secret, delivers powerful life education for adults and kids…"-Valerie Stuart, Windhorse Care.
"A timeless piece of art…"-Hannington Goldin, Commercial Pilot, Norway
Immediate download of the Highlighted Collection
 (see side bar to order) 
Includes:
Special Highlighted Edition of Gimpy's Secret…it's what's missing
Activities/parent teacher guide
Audio of Highlighted Edition read by author
Decision Making Program
Special Bonus
(to order & download the Highlighted Collection see side bar)
Click "Buy Now" to purchase spiral bound original edition only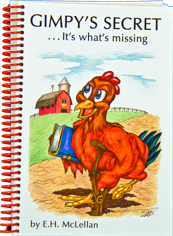 Subscribe to get your FREE eBook:  a glimpse into the science behind Gimpy's Secret…