Hello, I'm Elaine McLellan. I am a grandmother!

Due to unforeseen circumstances, we had the good fortune of raising our incredible grandson.
At the exact perfect time,and again, due to unforeseen circumstances some much needed information fell out of the sky and directly into our laps.
WHAT IMMEDIATELY CONVENINCED ME THAT WE WERE ON TO SOMETHING  WAS THAT THIS INFORMATION WAS NOT BASED ON SOMEONE'S OPINION…..BUT, ON OBSERVABLE ACTIONS AND PROVABLE FACT!  IN OTHER WORDS, KNOWING HOW TO LOVE WORKS FOR EVERYONE!
Divine intervention stepped in! Now, we had the tools to give our grandson every possible advantage to cope with, and "get along with" (how to love) others for the rest of his life.
Today, he and his wife are teaching their three children the "secret" of mutually beneficial human interaction (how to love) that gives them a definite advantage.
The effect was so profound and beneficial for our grandson, his children and us, that I was compelled to place the core of it into an easy to read, easy to remember, story so others could reap their own personal benefits.
I never dreamed my little book would be read by folks around the world, used in schools both public and private and in countless homes.
Testimonials poured in.  Amazon readers gave it a 5 star rating.
Requests for more information, from grandparents and parents, have inspired the release of The Highlighted Collection. This collection introduces a new model or system, a higher order of thinking and acting.  A course that will fit any schedule.
This course will effect some people in an extraordinary way, it just may change your life!
Divided into four sections with activities and suggestions for teaching and learning the 

4 factors

that cause Love to occur and the

10 actions

through which Love is delivered.
It is all in the doing!  Action is imperative!
Finally, and for the first time, a blueprint for getting along with one another (how to love)!
Now available for
instant download 

Regular price $297.00
         NOW ONLY

$49.00

Limited Time Offer 
If you would like to speak to me directly about this, you may call 800-490-1990 10:00 a.m. – 1:00 p.m. CST
Gimpy's Secret: Highlighted Collection for immediate download
Highlighted Edition of Gimpy's Secret…it's what's missing. Loved by children and adults! Fun to read and easy to remember!
Activities and tools for internalizing "how LOVE works"
Audio of Highlighted Edition, read by author
Plus special surprise bonus
Begin the New Year by creating an electrifying shift in awareness.
Join the move toward educated Love!
Limited time offer
Instant download. Gimpy's Secret: Highlighted Collection
INCLUDES:
Highlighted Edition of Gimpy's Secret…it's what's missing,
Activities and tools for internalizing "how LOVE works"
Audio, of Highlighted Edition, read by author,
RKRC-Loop Decision Making Program 
+ Special Bonus
Complete Program: Normally $297
Christmas special price: Buy now for $49

Also offering:
Gimpy's Secret…it's what's missing (the original spiral bound story)
"Add to cart" to buy the original spiral-bound book directly from the Author.  First 100 will receive a link for a free download of the Highlighted Collection!!!!!
Loved, and quickly grasped by children, 

yet simple enough for adults!
Gimpy's readers tell us:
Their lives are more joyful

They have an incredible advantage

They know "how to" get along with others

They know what's wrong when things fall apart

They know how Love works!
"… more than a read, it is an experience…  a powerful message."- Laurette Lynn, author, speaker.
"Creative, captivating and inspirational for all ages…"-Jim A. Oldham, Superintendent, TN School for the Blind.
"Gimpy's Secret, delivers powerful life education for adults and kids…"-Valerie Stuart, Windhorse Care.
"A timeless piece of art…"-Hannington Goldin, Commercial Pilot, Norway
Add to cart" to purchase spiral bound original edition directly from the author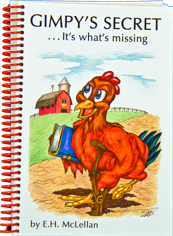 Subscribe to get your FREE eBook:  a glimpse into the science behind Gimpy's Secret…